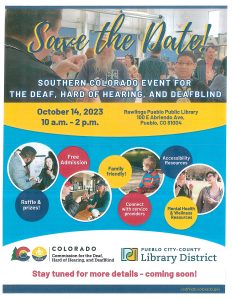 Hosted by the Colorado Commission for the Deaf, Hard of Hearing, and Deafblind, an event will be held on Saturday, October 14, 2023, 10 am - 2 pm, at Pueblo Rawlings Library (100 E Abriendo Ave).
Take the opportunity to connect with other service providers! Learn more about mental health and wellness and accessibility resources too.
This is a family friendly event, where admission is free and there will be a raffle and prizes.
Stay tuned for more details!